Archive for Spoken German
The Archive for Spoken German (Archiv für Gesprochenes Deutsch, AGD) is a research data centre for corpora of spoken German. It is part of the program area 'Oral Corpora' in the pragmatics department of the Leibniz Institute for the German language. The AGD curates corpora from research projects, archives them, and makes them available for reuse in research and teaching.
The AGD currently hosts more than 80 different corpora, including the most important resources documenting spoken German in interaction and regional variation of spoken German, such as:
The Research and Teaching Corpus of Spoken German ('Forschungs- und Lehrkorpus Gesprochenes Deutsch', FOLK), a constantly growing corpus of currently around 300h of audio and video recordings (close to 3 million transcribed tokens) of spoken German in various interaction types,
The GeWiss Corpus of Spoken Academic Language ('Gesprochene Wissenschaftssprache Kontrastiv'), a one million word comparative corpus for spoken academic language,
The corpus German dialects ('Deutsche Mundarten', also known as 'Zwirner Corpus'), a historical 1000 hour collection documenting dialectal variation of German in the 1950s and 1960s,
The corpus German Today ('Deutsch Heute'), a more recent 1300 hour resource documenting regional variation of German at the beginning of the 21st century
The corpus German in Namibia ('Deutsch in Namibia'), one of a number of resources documenting varieties of German outside the German speaking core area.
Please see this page (work in progress) for detailed information in English on most of the corpora.
The full list (in German) of corpora currently available or in the process of curation can be found under Korpora.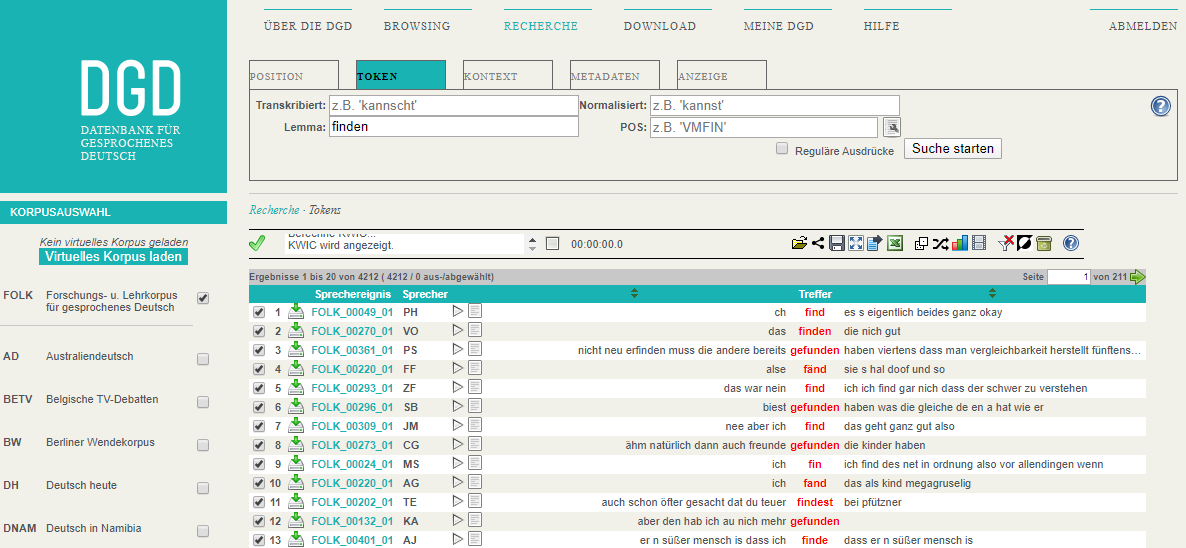 With the Database for Spoken German ('Datenbank für Gesprochenes Deutsch, DGD), we are developping a corpus platform for working with the oral corpora in the AGD. After a free, one time registration, the DGD offers access to 34 of the archive's corpora. In the context of the archive, we are also developping and maintaining EXMARaLDA, a system of tools for transcribing and annotating audio and video recordings, and for managing an analysing spoken language corpora.
You can find further information on depositing data with the AGD under Übernahme von Korpora. As far as our capacities allow, we offer advice and support to researchers who want to work with the archive's corpora or who are building up their own spoken language corpora. We are sorry we can currently not offer a full English version of this website. Feel free to contact us at agd-service _AT_ ids-mannheim _DOT_ de if you have any questions.