FOLKER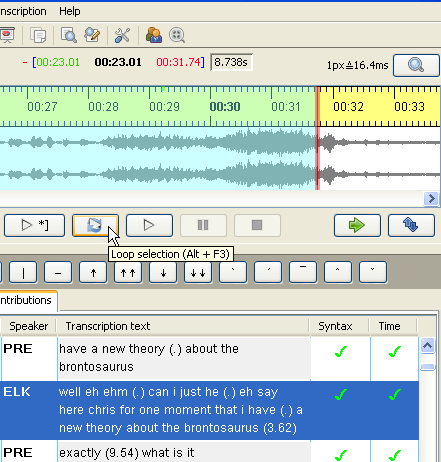 The new research and teaching corpus FOLK which is being developed in the AGD will be completely transcribed. In order for these transcripts to be optimally computer-searchable and computer-analysable, they must obey certain conventions which take into account the special requirements of electronic data processing. The AGD has therefore taken part in the development of GAT2, which fulfils these demands. On the basis of these new transcription conventions, we designed the new editor FOLKER, with which FOLK is transcribed. The development takes place in close coordination with the developers of GAT2 and with several pilot projects. This should assure a consistent adjustment of the editor to the needs of research practices.
We are making version 1.1 of FOLKER available here. This is a stable version suitable for project work and especially for the exchange of transcripts (incl. German, English, and French localization). With regard to the further development of FOLKER we appreciate as much feedback as possible from the community.
You have to register before downloading:
Documentation for users:
[Quick start tutorial] (1 page)
[Transcription manual] (77 pages)
These documents may inform you beforehand about the user interface and the functions of FOLKER.
Documentation for developers:
The first document (in German) describes the FOLKER data model on which the XML data format read and written by FOLKER is based. The document should be understood as a supplement to the XML scheme which describes the elements explained by the data model in a formal document grammar.
A paper on FOLKER ("FOLKER: An Annotation Tool for Efficient Transcription of Natural, Multi-party Interaction") is available from the LREC 2010 Proceedings.